Recompensa:
The Curse of the Full Moon: Oportunidad de enfrentar a Feroxa.
'The Curse Spreads: Achievement, oportunidad de enfrentar los bosses Bloodback, Darkfang, Sharpclaw.
An Ancient Feud: Achievement, Lion Mosaic. Lit Torch. Acceso al santuario de los Werelioness, Cask (Goblin Zombie), Lion Ring, oportunidad de enfrentar los mini bosses Yirkas Blue Scales, Katex Blood Tongue, Srezz Yellow Eyes y Utua Stone String
Ubicación:
Grimvale, Edron, Venore Corym Cave, Cormaya y Darashia, entre otras.
Nivel requerido:
200.
Premium account:

Criaturas a enfrentar:
Werewolfs, Wereboars, Werebadgers y Werebears, Werehyaena, Werehyaena Shaman, Werelion, Werelioness.
Véase también: Quest de Rookgaard - Quest de addons en Rookgaard - Quest de Mainland - Quest de Addons/Outfits en Mainland - Daily Tasks - World Quest - Mini World Change | Esta página se ha visitado Template:NUMBEROFVIEWS veces | La ultima edición de esta página fue el 22/07/2020
Si encontraste un error en este artículo repórtalo en nuestro fanpage.
El contenido de esta página podría arruinar la diversión del juego
Grimvale Quest
Historia de las Expansiones de esta "Quest":
The Curse of the Full Moon
Requerimientos
Ve a Edron y busca al NPC Cornell, es dueño de una balsa y lo podrás encontrar en el siguiente lugar del lado este de la ciudad:
Dile lo siguiente:

Llegarás a la isla llamada Grimvale que posee un total de tres (3) NPC's (sin contar a Cornell) que son: Gladys, Owin y Maeryn:
Debes ir con la NPC Maeryn que se encuentra en la cabaña de la izquierda, dile lo siguiente para conseguir tu primera misión:

Te comentará sobre la maldición de las "Were-Beast" y te pedirá tu ayuda ya que necesita conseguir tres (3) Purple Nightshade Blossoms, estas flores son capaces de curar a las personas infectadas por la maldición. Debes saber que solo podrás recolectar estas flores cuando hay LUNA LLENA.
¿Cómo saber si hay luna llena?
Los días 12,13 y 14 de cada mes, será cuando se active esta fase en Grimvale, es decir, durará un total de tres (3) días de cada mes. Para saber si está activa la luna llena solo debes ir a la isla de Grimvale y en la superficie cuando hay luna llena, podrás ver Werebadgers y Wereboars, ellos solo aparecen en la superficie cuando hay luna llena, en cambio cuando NO hay, te encontrarás con Bandits y Badgers.
Nota: Ten en cuenta que cuando estás en estas zonas corres el riesgo de ser maldecido y por ende, te transformarías en una "Were-Beast", estando transformado no puedes hablar con ningún NPC, la forma de volver a la normalidad, es usando una Purple Nightshade Blossoms para curarte de los efectos.
Cuando te transformas:
Cuando usas la planta:
Cuando se encuentre la luna llena, es decir, el día 12 del mes, ve al agujero que se encuentra del lado noreste de la isla:
Al bajar, enfrentarás Werebadgers y Wereboars, en el primer piso podrás encontrar una (1) Blooming Purple Nightshades mientras que en el segundo podrás encontrar dos (2).
La localización de las plantas son las siguientes:
Cada una de las flores puedes agarrarla en un tiempo de treinta (30) minutos, es decir, cada media hora puedes tomar las tres (3) Purple Nightshade Blossoms que se encuentran en el nivel -1 y -2.
Para obtener la flor solo debes darle "click" encima y aparecerá en tu backpack.
Cuando tengas las tres (3) que te pidió Maeryn, vuelve con ella y dile lo siguiente para entregarselas:

Nota: Puedes entregarle Purple Nightshade Blossoms siempre que desees y se sumarán en tu "quest log" sección Grimvale.
Silvered Traps
No necesitas hablar con Maeryn para esta parte, únicamente debes ir de nuevo por el agujero pero en esta ocasión, bajar al nivel -3, donde enfrentarás: Werebadgers, Wereboars, Werebears y Werewolfs.
En todo este nivel de la cueva podrás notar en las paredes como especie de alambres de plata, son algo similares a unos rayos.
Lo que debes hacer es usar tu Pick o una Secret Agent Tool en ellos y tendrás chance de obtener un Vial of Liquid Silver, debes tener en cuenta que no siempre podrás sacarlos a la primera, por ende debes intentar varias veces hasta conseguir el frasco, al usar tu Pick debes esperar un tiempo de aproximadamente dos (2) minutos para intentar de nuevo.
Cuando consigas sacar el frasco, ve con Maeryn y también es necesario que compres una Closed Trap, al tener los dos ítems dile lo siguiente y recibirás una Closed Silvered Trap:

Nota 1: La NPC Gladys que se encuentra en la superficie vende Closed Traps entre otros artículos que podrías usar, incluyendo Pick.
Nota 2: Es aconsejable sacar más de estas Closed Silvered Traps para cuando vayan a enfrentar a Feroxa, de lo contrario no conseguirán derrotarla.
Boss: Feroxa
Para poder enfrentar a Feroxa, debes ir a donde indican los siguientes mapas en los pisos -3 y -4 (únicamente cuando hay luna llena):
Cuando llegues al circulo negro en el nivel -4 encontrarás unas palancas y un puzzler, debes mover las palancas hasta formar una "V" en el suelo como muestra la imagen de abajo.
Luego de formar la "V" como muestra la imagen anterior, debes mover cualquiera de las palancas nuevamente y se activará la luz de la luna (hará un "click"), de estar forma los rayos se la luna comenzarán a cargar el teleport donde se encuentra el boss.
Ahora debes esperar a que aparezca un mensaje que es el siguiente:
"Grimvale drowns in werecreatures as the full moon reaches its apex and ancient evil returns."
Importante: Este mensaje aparece al día siguiente, pero es incierta la hora exacta, debes estar pendiente al momento de que salga.
Al salir este mensaje, debes ir al siguiente lugar que es donde se encuentra el teleport para entrar al boss.
Nota: Para conseguir entrar al teleport del boss, debes haber derrotado al menos 50 Were-beast y haberle entregado al menos 3 Purple Nightshade Blossoms a Maeryn (puedes chequear en tu quest log en la sección "Grimvale" tu avance), de lo contrario no conseguirás entrar.
Nota 2: Cuando aparezca el primer mensaje, es decir "Grimvale drowns in werecreatures as the full moon reaches its apex and ancient evil returns.'" tendrás un máximo de 30 minutos para entrar al teleport, de lo contrario este de cerrará y no podrás entrar.
Serás trasportado a una sala redonda como la siguiente:
En este lugar debes esperar, cuando pasen 15 minutos dentro de la sala, cambiará y la mitad de la misma se volverá de color negro y saldrá el siguiente mensaje:
Cuando pasen 5 minutos más, se volverá completamente negra junto con el mensaje a continuación:
Ahora, debes esperar otros 10 minutos dentro, al pasar ese tiempo todos serán llevados a otra sala con una rampa del lado izquierdo, bájala y ahí se encontrará el boss Feroxa.
Al inicio Feroxa tiene apariencia humana y puedes hacerle daño con cualquier tipo de ataque, cuando se transforma en un lobo se volverá inmune a cualquier tipo de daño, cuando esto ocurra debes hacer que Feroxa camine por encima de las Closed Silvered Trap (solo debes colocarlas en el suelo y darles "click" para abrirlas), esto la debilitará, debes hacer que camine unas cuantas veces por encima de ellas. Cada vez que el boss camine por encima de una de las Closed Silvered Trap, perderá 1.000 de hp y volverá a ser débil contra cualquier tipo de daños y podrás atacarla de nuevo preferiblemente con ataques físicos, de energía, hielo y fuego.
Nota: Feroxa morirá una primera vez y luego re-aparecerá en su forma humana para luchar hasta la muerte, deben matarla nuevamente, es decir, morirá dos (2) veces.
El loot depende de tu participación durante la batalla.
¡Mucha suerte!
Werewolf Helmet
Si eres acreedor de un Werewolf Helmet, debes saber que puedes encantarlo usando una (1) Moonlight Crystal para cualquier tipo de vocación, ve con la NPC Maeryn.
Nota: Los Moonlight Crystals son dropeables de Feroxa y de las "Were-beast", pero únicamente durante la luna llena.
Dile lo siguiente:

Una vez le digas, se actualizará tu quest log y deberás usar una Moonlight Crystal encima del Helmet para transformarlo.
Las mejoras para las vocaciones son las siguientes:
Knight: You see an enchanted werewolf helmet (Arm:9, sword fighting +1, protection physical +4%) that will expire in 59 minutes and 31 seconds. It can only be wielded properly by knights of level 80 or higher. It weighs 25.00 oz. This helmet can only be worn by knights and amplifies sword fighting.
(Te pone a elegir qué tipo de arma usas y dependiendo cual elijas, se sumará +1 o de Sword, o Mace o Axe).
Paladin: You see an enchanted werewolf helmet (Arm:9, distance fighting +1, protection physical +4%) that will expire in 59 minutes and 58 seconds. It can only be wielded properly by paladins of level 80 or higher. It weighs 25.00 oz. This helmet can only be worn paladins.
Sorcerer y Druid: You see an enchanted werewolf helmet (Arm:9, magic level +1, protection physical +4%) that will expire in 59 minutes and 59 seconds. It can only be wielded properly by sorcerers and druids of level 80 or higher. It weighs 25.00 oz. This helmet can only be worn by wielders of magic such as sorcerers or druids.
Si deseas cambiar la profesión para usar el Helmet, solo dile lo siguiente:

The Curse Spreads
Requerimientos
Método
Viaja a Grimvale y busca a Maeryn
La maldición de los 'were' se está expandiendo, Maeryn necesita que la ayudes a detenerla. Luego de hablar con ella, vuelva a Edron y busca a Daniel Steelsoul para tener más información
Los habitantes de Edron están temerosos. Cada vez que hay luna llena, los hombres y las criaturas más inofensivas, al parecer, sufren un cambio aterrador e invaden los bosques y los alrededores de la ciudad, lo llaman "La maldición de la luna llena", necesitan un antídoto para ese extraño cambio. En las profundidades de Grimvale existe una bella flor, Purple Nightshade Blossoms, es una cura temporal, pero algunos habitantes han perdido fe en ella y comentan que ya no hace efecto, debes ir a la segunda torre, de la Academia de Magia de Edron, para buscar ayuda.
Cuando hayas llegado a la torre, sube al último piso para hablar con Milos
Milos sabe de esas cosas extrañas que están pasando en Edron, los habitantes no se están curando con la flor, él tiene una teoría: habla sobre unas 'lineas de ley', sospecha que una de ellas pasa por Edron, y que esa puede ser que sea la causa de que los habitantes no esten usando la flor para curarse. Él tiene una forma de hacer que el poder de curación que poseen las flores sea más potente. Debes ir a la biblioteca, en la torre central, que queda en la Magic Academy para buscar unas notas, 2 de ellas estan en el tercer piso, una en el cuarto piso, sigue las indicaciones:
Piso 3:
Piso 4:
Ahora baja todos los pisos de la torre, y dirígete al sur para ir a la otra torre, baja todos los pisos, hasta llegar al Npc Puffels, abre el baúl que se encuentra al norte
Vuelve con Milos quien quedará sorprendido con tu hallazgo.

Milos dice que si encuentras los ingredientes correctos, se podrá curar a todas las personas que estan dentro de la 'linea de ley' terminando así con la maldición. Estos ingredientes son Crimson Nightshade Blossoms, una flor muy rara que Maeryn consiguió para él, la cual te entregará junto con un Stone Tablet con las 'lineas de ley'.
Los ingredientes son: Plata, Oro y Shadow Bite Plant. El oro y la plata la consigues en la zona de la Hidden Threats Quest en Venore, allí debes hablar con Corym Ratter
En Venore sigue los siguientes mapas, para encontrar a Corym Ratter
Al bajar, sube por la escalera que está cerca, cruzas el puente hacia el este, bajas y sigue caminando al este hasta el sitio indicado.
Entra al 'teleport' y camina al norte.
Al llegar conversa con él:

Camina al norte para encontrarte con Corym Servant

A su derecha verás una puerta de pomo rojo, entra y baja las escaleras y dirígiete al siguiente punto para colectar la 'Plata', al llegar, debes usar un Pick, en la roca.
Regresa al piso donde está el npc y dirígete a la siguiente zona para colectar el 'Oro', al igual que en el anterior, usa el Pick:
El otro ingrediente es el Shadow Bite Plant

, el cual buscarás en Edron, muy cerca de la zona de los Orcs. Ten cuidado, hay muchas criaturas, puedes llevarte algunas Fire Wall Rune. Sigue los mapas
Ya que tienes todos los ingredientes necesarios, vuelve a la ciudad, ve al segundo edificio de la 'Academia de Magia de Edron (el mismo donde está el Npc Milos, tendrás que triturar los pedazos de oro y el de plata en el Wooden Grinder, para ello da use con el ítem en la maquina.
Reporta la misión a Milos:

Milos dice que debes ir al laboratorio del Npc Sinclair, quien esta en el último piso de la torre central de la Magic Academy para hacer la poción, deberás usar los ingredientes en el Alchemical Apparatus que está en el norte en este orden:
Regresa para hablar con Daniel Steelsoul y decirle que ya hiciste la poción:

Daniel Steelsoul te felicita por tu buen trabajo al crear la poción, ahora hay esperanza de que se pueda curar a las personas infectadas de la ciudad, pero la maldición también llegó a Cormaya, debes viajar allá para hablar con Yoem.
Yoem dice que es cierto que la maldición está en Cormaya, muchas personas son afectadas por este mal y lo mas curioso es que algunas no fueron mordidas por criaturas, como se pensaba, sino que debe haber otra forma de infección, él piensa que es el agua subterránea, así que necesita que alguien investigue en las cuevas al este de la isla.
Sigue los siguientes mapas para llegar al agua subterránea que está contaminada:
Al llegar a las escaleras baja y ve hasta el final, en esta zona no hay criaturas, al llegar al agua, saldrá el siguiente mensaje y se actualiza tu 'Quest Log'
Regresa con Yoem y reporta la misión:

Te pedirá que vayas nuevamente a la 'Academia de Magia de Edron'. Una vez allí, busca al Npc Milos y dile las novedades de esta forma:
Hi - curse
Milos dice que existen 'totems' parecidos a los que encontraste cerca del agua contaminada en Cormaya, estos 'totems' están propagando la enfermedad del mal, contaminando las aguas. Milos te entregará un Golden Symbol of Suon
para purificar, el cual deberá usarse en las Dark Stone Pile, que se encuentran en las 'lineas de ley' de Tibia.
Para purificar los 'totems' debes usar el Golden Symbol of Suon en las siguientes zonas:
Vengoth
Krailos
Banuta
Ahora ve a la cueva de Cormaya y llega hasta el agua subterránea, notarás que ahora el agua está limpia. Se actualizará tu 'Quest Log'.
Regresa con Yoem y reporta diciendo: Hi - curse, te pedirá que también le cuentes a Daniel Steelsoul al cual debes decirle de igual forma: Hi - curse.
Ahora debes investigar las cuevas de estas criaturas en Edron y Cormaya. Debes buscar los líderes de cada tipo de horda 'Were' y derrotarlos. Estos 5 'bosses' son un poco más fuertes que los de su misma especie, 3 de ellos están en Edron y 2 en Cormaya.
Edron: En los círculos indicados en el mapa de la cueva de Edron están los ´teleport' para los bosses
Cormaya
Cuando hayas matado los 5 bosses, regresa a la ciudad de Edron a hablar con Daniel Steelsoul, diciendo:
Hi - were
Recompensas
An Ancient Feud
Requerimientos
Método
Dirígete a Edron en el punto indicado en el mapa para conversar con Daniel Steelsoul
Daniel Steelsoul te cuenta que escuchó rumores que la maldicion de los "Weres" se ha extendido por el desierto de Darama.
Viaja a Darashia a buscar a Domizian, quien vive en el segundo piso de una casa cerca del muelle.
Domizian efectivamente te cuenta sobre la maldición, te envía para que hagas una investigación.

Nota: Es recomendable que a medida que camines por el local mates las criaturas, ya que necesitas tener 300 de ellas para una misión más adelante.

Dirígete al punto indicado (es recomendable que lleves protección a "Death":
Sigue los mapas:
Ve a las zonas marcadas con la X
Ve a la zona indicada del lado derecho y dale use a la roca que está en el medio
Ahora ve a la otra, acércate en la zona indicada del lago de sangre y te saldrá este mensaje:
Ve a la zona indicada con el círculo verde del mapa anterior, y dirígete al siguiente punto:
Ahora, devuelvete al piso anterior, para ir a hablar con A Skull. Debes hablar con él, cuando sea de noche.
Hecho esto, se actualizará tu 'Quest Log'. Los muertos-vivientes están trabajando juntos con los Werehyaenas, cuyo lider se llama Rhargu.
Regresa a la ciudad a hablar con Domizian.

Tu misión será impedir los planes que tienen los muertos - vivientes con las werehyaenas.

Rhargu's Demand
Vuelve a la caverna, en el punto indicado para encontrar a Rhargu. quien se encuentra un poco más al sur de donde está A Skull.
Ella te dirá la forma de detener la maldición, deberás llevarle lo que te pide: 5 Lion's Manes, 5 Cave Rats salados, 1 Hydra Egg cocido y 1 Haunch of Boar.
Te dará un Empty Cask File:Empty Cask.gif para colocar allí las ratas saladas.
Ratas Saladas:
Ve a alguna zona donde hayan Cave Rats, cuando las hayas encontrado atrápalas con el Net (Herramienta)

luego usa la Salt

en ellas, para obtener una Salted Cave Rat

y luego dale 'use' para colocarla en el "Cask" File:Empty Cask.gif.
Puede ser que alguna se te escape:
Cocinando un Hydra Egg:
En algunas zonas de tibia puedes encontrar un Campfire (Pot)

, debes usar el Hydra Egg

en él para cocinarlo. En la guarida de los 'Werehyaenas' se encuentra uno en la siguiente zona:
Regresa con Rhargu para entregarle la comida.

Como recompensa te dará un Cask (Goblin Zombie)

. También te dará un Lit Torch

, hecha de sándalo, para quemar el santuario de huesos, para destruir la conexión con los muertos-vivientes.
Destruyendo el Santuario:

Dirígete a la siguiente zona y usa el

en el santuario.
Al hacer esto, te darás cuenta que esta no tiene suficiente poder, hay que ir a bendecirla.
Ve con Domizian, él te dirá que hacer:

Domizian te comenta que debes ir al Lion Sanctum, ya que los "Werelions" conocen un ritual para bendecir la

.

Ve al sitio indicado, pero antes de entrar, sube a la cima de la montaña para buscar una Lion's Mane Flower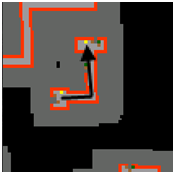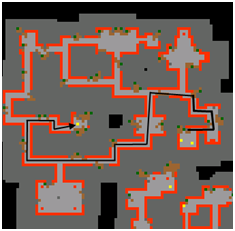 LLegarás a un altar. Colócate encima de este y corta la flor con una Multiuso

, un Obsidian Knife

o un Kitchen Knife

.
Al cortarla tendrás Chopped Lion Mane Petals File:Chopped Lion Mane Petals, que usarás en la antorcha

y quedará bendecida File:Lit Torch (Sparkling).
Regresa al santuario de huesos de las Werehyaenas y usa la antorcha en las velas que están alrededor de la roca, para romper la conexión con los muertos.
Regresa con Domizian.

Domizian te ha pedido matar 300 Werehyaenas.
Nota: Si has ido matando haciendo esta "quest" puedes abrir el "Bestiary" en la "Cyclopedia" y verificar cuantas "Werehyaneas" has matado hasta ahora, si ya tienes la cantidad requerida, le reportas de esta forma:

Ahora Domizian puede confiar totalmente en ti. y te cuenta un pequeño secreto de él, te dice que él en realidad es un "Hombre Lobo", pero que no tengas miedo. Los "Hombres Lobo" pueden controlar la maldición y no atacar a las personas como bestias sin sentido. Esta es la razón por la que él puede vivir en la ciudad y hablar contigo de una manera cortés.
Domizian comenta que sospechaba que los 'Werehyaenas' eran un peligro para Darashia, y que se lo comentó a su rey Heliodor, pero no le creyó, insistió y hasta se puso de mal genio y lo exilió como castigo por su descaro.

Busca a Heliodor y cuéntale sobre el pacto de los "Werehyaenas con los muertos vivientes, te dará un anillo (Lion Ring)

que te permitirá entrar en la parte inferior del santuario.
Ve al 'covil' de los Wereliones, y una vez en él, dirígete a la zona indicada, una vez allí equipa el anillo en tu dedo y dale 'use' a la estatua.
Antes de ir a buscar a Heliodor, dirígete a esta zona, allí deberás darle 'use' a una estatua.
Con esto tendrás acceso a los 4 bosses del local. No te preocupes que no son mas fuertes que los Werelions. Cada uno de ellos te dará un ítem que necesitarás para hacer el sacrificio.

Una vez que tengas los items, regresa a la estatua, y dale 'use', luego pasa por encima del 'mosaico' en medio de la sala, para acceder a Heliodor
Heliodor considera perdonar a Domizian, sin embargo te pide salir del lugar, porque los humanos no son bienvenido allí.

Nota:

Por ayudar a destruir la maldición que se expande en Darama, recibes el Achievement "Drama in Darama".
Para salir de la sala, nuevamente camina sobre el 'Mosaico', ten cuidado con las criaturas al salir.

Regresa con Domizian:

Domizian estará feliz, porque Heliodor lo ha perdonado, y te entrega 2 Lion Mosaic y ganarás el acceso de los 2 "shortcut":
1) Entre el Lion Sanctum y Hyaena Lairs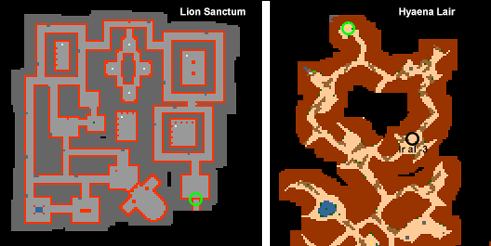 2) Por la cima de Lion's Rock.
Community content is available under
CC-BY-SA
unless otherwise noted.