Regresar a la lista de Monturas | Esta página se ha visitado Template:NUMBEROFVIEWS veces. | La ultima edición de esta página fue el 06/11/2014
Si encontraste un error en este artículo repórtalo en nuestro fanpage.
Método
Dirígete a la casa de Incredibly Old Witch:
Ubicación de la casa:
Lurea alguna criatura salvaje y espera a que la bruja los convierta en Donkey. En cuanto transforme a las criaturas en Donkey, debes usar la Bag of Apple Slices antes de que vuelva a transformarlos de nuevo. (No te preocupes si no te da tiempo, sigue esperando a que vuelva a transformarlos).
Localización de las criaturas: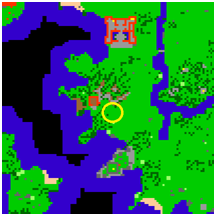 Recuerda que debes usar el item, en cualquiera de las criaturas que hayas lureado, si lo utilizas en ti, no servirá.
Si el item falla aparecerá uno de los siguientes mensajes:
You did not manage to feed the donkey enough apple slices.
The donkey transformation suddenly wears off.
Si logras tamearlo, aparecerá el siguiente mensaje:
Munching a large pile of apple slices tamed the donkey.
Community content is available under
CC-BY-SA
unless otherwise noted.